Yin Yoga For Pain – May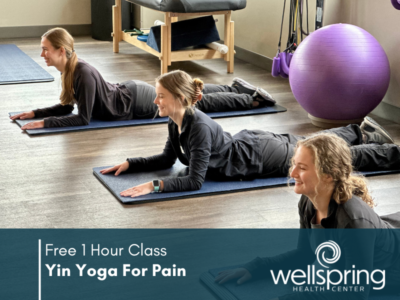 Free Class:
Tuesday, May 9th | 6:45 – 7:45 pm
Location:
Wellspring Health Center
6485 City West Pkwy
Eden Prairie, MN 55344
About the Class:
Yin yoga targets the connective tissue of the neck, shoulders, lower back, hips, and pelvis. Connective tissue responds best to gentle stretching, so Yin postures are more restful and held for longer periods of time.
The gentle but consistent stimulation to the connective tissue encourages pain relief, flexibility of the joints, and recharges the energetic system of the body.
The slow deep breathing of Yin Yoga releases stress by naturally drawing the mind into a relaxed, meditative state.
Registration is required.
Yoga mats will be available or bring your own.

Call or text (952) 933-1150 or fill in the form below to register for this free class!